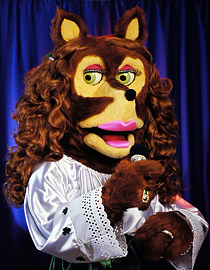 Foxy Colleen the "Irish Lassie" was an early Guest Star at Pizza Time Theatre, and appeared in multiple showtapes. She was always sweet in nature, and was known for singing traditional Irish folk songs1. Foxy was soft spoken and polite, taking Chuck E. Cheese's comments in stride and flirting with Jasper (who was openly obsessed with her).

Foxy was the third Pizza Time Theatre Guest Star, originally appearing in October of 19782. She was present at the original store on Winchester Blvd in San Jose, CA and originally had darker hair and wore a small hat. Aside from her debut showtape at Winchester, Foxy also appeared in two additional showtapes including "Showboat"3, and "Irish Stew"1, both in 1980.

Although she is always called Foxy Colleen (colleen being an Irish term simply meaning young girl or lass4), her proper last name is Flanagan1 which is how the other characters always refer to her.

If you have any additional information regarding Foxy Colleen - documentation, audio, video, photos, etc; please contact us!

References
1 - Showtape Review - Foxy Colleen in Irish Stew
2 - US Copyright Records - Foxy Colleen (VA0000038343)
3 - The Pizza Times (1980) - Vol.2 No.1 (Page 5)
4 - Quora - What is meant by Irish colleen?