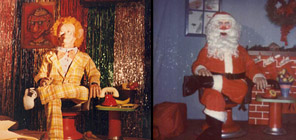 Uncle Klunk / Santa Claus were designed to be traveling characters - to be installed in a location for a few months, then moved to a different store, and so on. However, there was quite a lot of stage preparation required when switching over to the new Klunk setup. These guest characters and stage changeouts traveled around between 1983 and 1985, and not every store received it.
Uncle Klunk's stage retained the old rainbow curtain as a backdrop, and also used Rolfe's applause sign (which was retrofitted to become an "On The Air" sign). There was a special valance created for Uncle Klunk, and an animated Abomination sign that would drop down from behind the valance. Several props were added to the stage such as a Coo-coo Clock (with his animated Bird sidekick), a table with a telephone and fruit basket, a portrait of Klunk's mother, and a television camera that was hung from the ceiling.
The Santa stage was decorated to appear like the inside of a house, complete with a false window that revealed a snowy outdoor scene. A giant fireplace adorned with a chimney and stockings sat against a light blue backdrop. There was also a holiday wreath and large decorated Christmas tree. A special stage valance was also used for Santa's stage that simply read "Happy Holidays".
Because the Klunk animatronic was so much more sophisticated than the other robots, a special controller (computer) needed to be installed as well. This controller contained two driver boards - the left board controlled movements 1-15, and the right board controlled movements 16-30. Certain lighting adjustments needed to be made during the installation as well, including the addition of a pee-wee spot for the Clock / Bird.
One of Klunk's most amazing features was his ability to pick up and set down a telephone (or banana) that was next to him on a table. In order to successfully make this animation work, the placement of the phone (and also fruit basket) had to be carefully placed in order for the animation to function properly. A special portion of the diagnostic tape, titled "Set Phone" and "Set Banana", were included for this purpose of getting the correct placement of these props during the stage construction.
Creative Engineering was given the go-ahead by ShowBiz to begin production of the Klunk character in early 1982. The idea was to keep the Rock-afire more versatile by introducing a line of "traveling" characters, much in the fashion that Pizza Time Theatre did with their female Guest Stars. Showtapes echoed this idea, with Billy Bob asking guest to tell their friends to come to see Klunk, as he'd only be there for a couple of months.
The unfortunate reality was that the market was dwindling for the Family Entertainment industry, partly due to the U.S. arcade crash. When Klunk / Santa were introduced in ShowBiz, it failed to increase the already short profits. The entire concept of traveling characters was basically derailed before it was able to even get off the ground. Funds were also siphoned away from Creative's R&D department and ending the possibility of any other traveling characters from ever seeing the light of day - including a Paul McCartney character that was currently in the development stages.