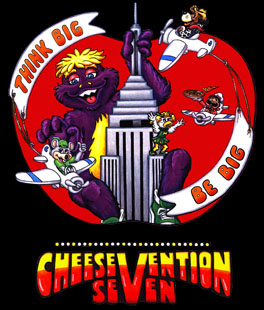 In June 2010, CheeseVention stormed the "Big Apple". The slogan was "CheeseVention SeVen - Think Big, Be Big!" and quite frankly it doesn't get much bigger than New York City! Our co-host Richard (Rapid T. Rabbit) helped get the local events arranged, and acted as the official NYC tour guide for our guests.

Slightly prior to the big event, the kick-off to the Rock-afire Explosion's 30th Anniversary was already under way with a special filming of "Rapid T. Rabbit and Friends". A puppet show was performed in which Looney Bird appeared with Rapid to promote the RAE's 30th birthday as well as recap the NYC premiere of the Rock-afire Explosion documentary film.

Saturday was the big day and it was kicked off with a dual-visit to the CV Lounge (Jenn's hotel room) and the CV Entertainment room (J's hotel room). Everybody packed into the lounge to meet with Billy Bob and browse through the collectibles and documents that were on display, as well as pack their pockets with freebie items from the giveaway pile!