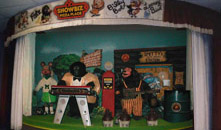 The classic Rock-afire Explosion Mini-Stage (also known as the Rock-afire Explosion One-Stage) was designed for small town ShowBiz Pizza restaurants in the early 1980s. It contained only four characters and because it lasted for only a couple of years, the Mini-Stage saw very limited usage. A few independent chains have also used the Mini-Stage beginning in the 1990s.
The Rock-afire Explosion Mini-Stage contained the following characters from left to right: Mitzi, Fatz, Billy Bob, and Looney Bird. Standard props such as Smitty's Super Service Station were used as well as some that were customized specially for the Mini-Stage. One prop was a wooden
"Used and Abused Tars" prop
containing a stack of worn out tires, a black bird-character, and a sign that read "Beware Bad Frog" (alluding to the Mini-Stage exclusive Bad Frog character). Another unique prop was a rounded wooden tree that wasn't used on the standard classic show. Also exclusive to the Mini-Stage were the
singing flowers
that sang backup vocals.
Creating the Mini-Stage version of the Rock-afire Explosion was something that Creative Engineering was unenthusiastic about, but was convinced by ShowBiz to design. It was given very limited exposure, and appeared in only five ShowBiz Pizza Place stores (one of which being Anderson, IN). Because of the arrangement of the characters, shows had to be specially programmed, and because of the missing characters, only certain shows could be used anyway.
By 1983
ShowBiz came to the realization
that the Mini-Stage wasn't a very cost effective solution and made the decision to discontinue its usage. The existing Mini-Stage shows were to be converted to full-stage shows, thus providing "top level entertainment for these smaller communities".
One of the companies that used the Mini-Stage Rock-afire after the demise of ShowBiz was Fun Time Pizza in Texas. They
modified
the stage valance, which unlike the standard Rock-afire center stage valance, actually contained the ShowBiz Pizza Place logo. Another location that purchased the Mini-stage Rock-afire in 2002 was
Hillwood Strike and Spare
in Nashville, TN - which stands today as the only location that actively uses this stage, or at least, has the show installed.