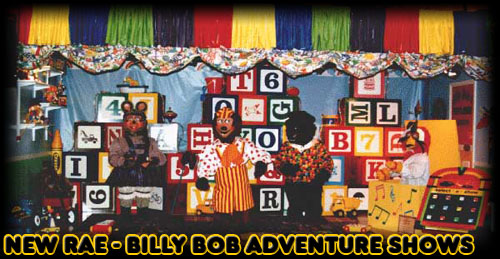 One of the neatest offerings for the New Rock-afire Explosion was the concept of smaller-scale Billy Bob Adventure Shows. These cosmetically changeable shows had 4 characters, Billy Bob, Fatz, Mitzi, and Looney Bird - the same four characters featured in the
Classic Mini-stage
Rock-afire Explosion. However, the addition of video monitors made it possible to include performances of characters who were not present on stage, very similar to the way
Chuck E. Cheese's Studio C
is presented.
Four different themes were offered for the Adventure stages - Billy Bob's Toyland Adventure Show (pictured above), Billy Bob's Tropical Adventure Show, Billy Bob's Carnival Adventure Show, and Billy Bob's Western Adventure Show. Custom stage themes were also available for an additional fee if a customer wanted the stage to match their store's theme.
It's uncertain whether or not any businesses ever purchased the Adventure Shows, or if all of the themes ever made it past the concept sketches. The Toyland show was produced and unveiled at an IAAPA convention in the mid-1990s. Those photos can be seen
here
, and the video can be seen
here
. A few concept sketches also exist for the
Toyland show
, and a few different ideas for the
Carnival show
.