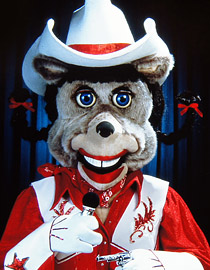 Harmony Howlette, often referred to as the "cowgirl who gathers more posse than Jesse James" was an early Guest Star at Pizza Time Theatre. She was from west Texas, and grew up with her three brothers - joining up with the Pizza Time Players after touring around the country. She was confident and assertive, being one of the only guests who wouldn't hesitate to stand up to Chuck E. Cheese's insults, giving the two of them some of the most unique and feisty exchanges. Harmony was best known for singing old country and western songs, and would often yip and howl during her singing. She was revered by the rest of the cast, especially Jasper who was in love with her.1

Harmony was the fifth Pizza Time Theatre Guest Star, and the final new guest to appear (Madame Oink and Helen Henny would both return after Harmony's run, with Helen becoming a permanent cast member). Harmony Howlette made her debut in the Spring of 1981 in the showtape "Harmony Howlette's Wild West Show"2. A second showtape followed titled "Harmony's Hoedown"3 in late 1981 / early 19824. The second showtape began appearing in stores where first Harmony reel had already played for six months. New stores opening through April 1982 would receive the original Harmony tape first, followed by the second tape six months later4.

Although Harmony was gone by 1983, she left a lasting impression, being featured on much of the promotional merchandise from 1981-1982 including coloring books, calendars, and other items. She also later appeared in 1988 on the "Indiana Jowls" parody poster. Harmony also inadvertently left her mark on the competition - while reworking the character of Mitzi Mozzarella, Aaron Fechter envisioned her to be naive and innocent, which would sometimes make her the victim of the other characters' taunts. However he was very careful on how this would be done, not wanting to mimic the way that Chuck E. Cheese was constantly picking on Harmony Howlette5.

References
1 - Showtape Review - Harmony Howlette's Wild West Show
2 - The Pizza Times - Vol.1 Issue 1 (Page 4)
3 - Showtape Review - Harmony II - Harmony's Hoedown
4 - The Pizza Times - Vol.1 Issue 3 (Page 2)
5 - Archival Home Video - "Monique Danielle Audition"